BDF Document Control Center
The SAP-integrated solution for your document management

"With its Document Management (DMS),SAP provides a solid base for handling documents. Our BDF Document Control Center (DCC) steps up where the standard falls short, offering additional features like document dispatching, a document cockpit, and automated classification. Our integrated document deadline tracking helps monitor the timely drafting of documents, ensuring that you comply with all document delivery deadlines."
Dr. Ulrich Schmidt
Managing Director BDF EXPERTS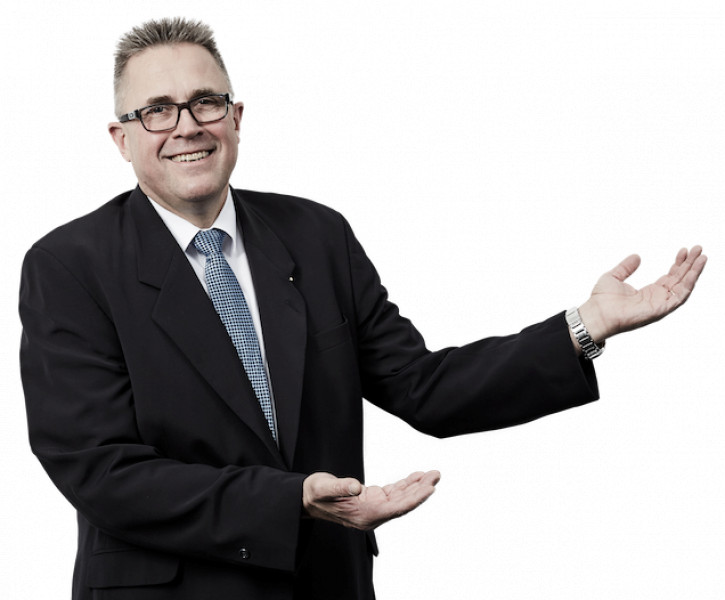 Document Management with BDF's DCC
BDF's DCC is a versatile document management software, fully integrated in SAP that lets you access and edit your documents from any point in SAP. The BDF DCC features include:
Document planning and control
Scheduling and expediting (progress tracking)
Status managing and viewing
Managing via folder structures
Links to SAP objects such as equipment, purchase order, production orders, and others
automated classifying and indexing
textual access search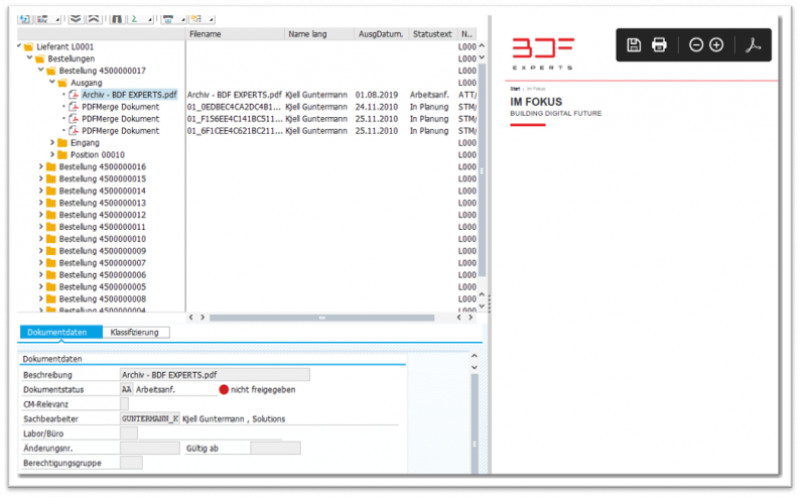 The benefits of our integrated DCC
Although there is only one original file of each document, the same document can be linked to different objects which allows for document accessibility from orders or equipment. The SAP Authorization Concept gives you flexible control to define who is allowed to read or edit a document. With the help of our DCC, all file formats can be saved in SAP – no matter whether it's an image, video, pdf, or text file you're dealing with. As all files are stored on a content server, file size has no influence on performance - you can assign as much memory as needed.
Example scenarios for use of BDF's DCC
BDF's DCC is the perfect solution for technical documentation of plants or technical objects. Thanks to the integration in maintenance (SAP PM), customer service (SAP CS), and material management (SAP MM), you can easily access and file orders, operating instructions, or test reports directly from the respective transactions. Finally find your documentation where you need it.
BDF's DCC helps you manage contracts digitally. It provides not only audit-compliant filing and archiving but also automated dispatch of contract documents to contract partners (see document dispatch). BDF's DCC lets you monitor contract deadlines and provides comprehensive reporting.
Digitize your entire procurement in combination with the BDF Collaboration Center (BCC). Upload all required documents from the SAP interface via the DCC to the collaboration platform (BCC) where suppliers can download them and upload any documents required for contract-compliant delivery of goods, such as conformity declarations, technical documentations, and others. Only once all documents have been submitted and checked via the collaboration platform, is delivery marked complete. The DCC also enables digital invoice dispatch (see document dispatch).
Audit-Compliant Archiving
As the BDF DCC meets all relevant requirements, you can use it as long-term archive for any type of document (invoices/contracts/test reports). Once successfully implemented, it can be certified by an external auditing company and is then regarded as a substitute for the storage of documents in paper form. We are happy to advise you about your individual process, as certification can only be obtained for software-process combinations.
The DCC offers automated compilation of documents into document packages in adherence to predefined rules, as well as dispatch to the respective recipients. For every dispatch, the DCC automatically creates a transmittal that lists all transmitted documents. It can also generate a cover letter addressing the recipient. The DCC provides a comprehensive dispatch history saving information such dispatch time, recipient, sender, and all dispatched documents to be assessed by the user at any time. The recipient's response can also be automatically transferred into the DCC, either in form of information (acceptance / category codes) or original file.